Shameful of

Abbas, He is a Devout Marxist muslim and muslim brotherhood member and Sympathizer

!!

Both the

Iran REGIME and North Korea

are

Anti

-Christian and Jewish People /

Anti

-Israel-Yisrael /

Antisemitism

/

Anti

-USA Capitalism and Constitution and Everything!!

United We Stand with Israel-Yisrael and our Judeo-Christian Nation United States of America, Divided We FALL!! I am Pro-Israel-Yisrael / Pro-Christian and Jewish People / Pro-USA Capitalism and Constitution / PRO-LIFE!!

I don't post politics on Kristi Ann's Haven anymore!!

God Bless all my Sisters and Brothers in Christ Jesus-Yeshua and Your Families and Friends who STAND with the Holy Land of Israel-Yisrael and our Judeo-Christian Nation United States of America!!

Our ONE True GOD'S LOVE 💙💕 is ETERNAL THROUGH HIS SON Jesus-Yeshua Christ for Today and Everyday Forevermore!!

I Love you all Everyone through Jesus-Yeshua Christ, because HE LOVED 💕💙 EVERYONE FIRST!!

Love 💙💕 Always and Shalom ( Peace ), YSIC \o/

Kristi Ann
Absolute Truth from the Word of God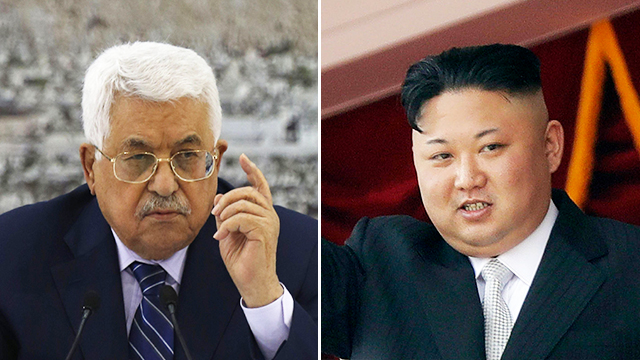 Palestinian President Mahmoud Abbas and North Korea dictator Kim Jong-un (Photos: AFP, AP)
In 2002, George W. Bush spoke of an "Axis of Evil."  This alliance of evil included Iran, North Korea and Iraq.  After Saddam Hussein was taken out, Iraq has remained a most unstable country. The presence of ISIS in that region has contributed to the country's instability.
The Left have ridiculed Bush for claiming that Iraq had Weapons of Mass Destruction. It is believed that these weapons were quickly moved to Syria and buried in Damascus before that war began.  But the Left maintain that Saddam never had such weapons.
Today, Israel has spoken of a new Axis of Evil. Iran and North Korea remain part of this world threat, but a new player has been added. Abbas from the Palestinian Authority has evidently joined forces with Kim Jung Un of North Korea.
Fromynetnews.com
View original post 343 more words